Review (x3!): New Nabisco Gluten-Free Original Rice Thins, Sea Salt & Pepper Rice Thins, & White Cheddar Rice Thins & Episode 10 of The Nosh Show!
Junk Food Nation, It's Monday, which means you have THREE DAYS LEFT to enter my Q Kola giveaway!  Details here.  Also, it's a happy Monday because THE NOSH SHOW EPISODE 10 IS OUT: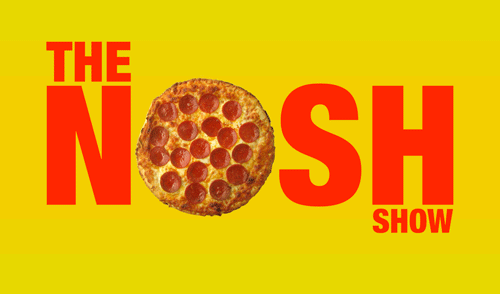 This week, "Marvo mourns for Cookies & Cream Twix, Ryan weeps for Applebee's Onion Peels, Dubba grieves for original Jell-O Pudding Pops, and Eric shows sorrow over Ben & Jerry's Festivus Ice Cream. Plus, five new Nosh or Not products and our Noshes of the Week."
To stay on top of The Nosh Show, you can subscribe to The Nosh Show on iTunes. Or if you don't use iTunes, you can use this link to subscribe using your podcast player of choice. You can also follow The Nosh Show on its own blog, Twitter, and Facebook page.  OR just listen to it, embedded above!
Today's junk food: New Nabisco Gluten-Free Original Rice Thins, Sea Salt & Pepper Rice Thins, & White Cheddar Rice Thins!
I found these Rice Thins at my local Giant Food store, but honestly, they are everywhere right now.  I saw them at Safeway, Walmart, AND Target the other day, so these are OUT.  Gluten-free is a big thing these days, as more and more people discover they have celiac disease.  So why wouldn't Nabisco get in on the mix?  Their answer: RICE THINS!
Obviously a play on their popular Wheat Thins, add these to the list of Rice-based versions of current crackers (see: Brown Rice Triscuits).  I am Asian, so I've been eating rice crackers since I was a little kid – so I was STOKED to see these.  You may look at these with a crooked eye, wondering what the hell these light blue boxes are.  Well that's why I'm here, isn't it? To try these things first?   Of course.
So let's get to it!  First up: New Nabisco Gluten-Free Original Rice Thins!
These New Nabisco Gluten-Free Original Rice Thins were the first that I tried, and basically they were lightly seasoned with salt, and that's it.  Made with white ride, unlike the other two varieties, these circular rice crackers were crispy and light, just like your standard rice cracker you might've had from an Asian grocery store.  And MAN THEY WERE SALTY.  Like, very salty.  Unlike Asian rice crackers, these didn't have any soy taste.
I DID like them – the rice cracker had a sort of toasty taste to it.  The salting was inconsistent; but really, it didn't matter, since four or five crackers were going into my mouth at once, who was I kidding.  Not a bad start to this Rice Thins line.
Next up: New Nabisco Gluten-Free Sea Salt & Pepper Rice Thins!
These New Nabisco Gluten-Free Sea Salt & Pepper Rice Thins were square, unlike the circular original variety.  So, I guess these resembled Wheat Thins a LITTLE bit more?  They were made with brown rice, but had the same light, rice-y crunch.  The sea salt and black pepper was VERY light – these weren't as salty as the Originals, and to be honest, the black pepper taste, while there, was faint.
I had to LICK one of the Rice Thins to be sure I was eating a sea salt & pepper cracker, and when I did, I definitely picked up the familiar combo of flavors.  But eaten all together, I found the powdering on this one to be too light.  They looked good, but the flavor, while not bad, was a bit mild.  Def. didn't have that same sea salt & black pepper taste you might be familiar with with other snacks.
And finally: New Nabisco Gluten-Free White Cheddar Rice Thins!
Okay, I'll just come out and say it – if you're going to buy only ONE of these flavors, you should buy these New Nabisco Gluten-Free White Cheddar Rice Thins.  These had that same light rice cracker crunch, and were also square and made of brown rice.  But the flavor on these was AWESOME. LOTS of white cheddar flavor even if the powder didn't look too plentiful.  The cheese taste was strong, and it was pervasive.  I'm a cheese cracker stickler, and these really hit the mark well.  I was surprised that the white cheddar taste matched so well with a light rice cracker, but what do I know? These were damn tasty. Buy these.  Now.
So, in summation, I'd rank these 1) White Cheddar Rice Thins, 2) the other two.
As a whole, I like Nabisco's effort to introduce more gluten-free snacks to the product line…and I can't wait to see what flavors come next for these Rice Thins!  Sour Cream and Onion can't be too far behind, and Ranch, and Buffalo, and…ok, now my mouth is watering.
PURCHASED AT: Giant Food Grocery
COST: $3.00 on sale (I also saw at Walmart for like $2.67)
Thoughts? Please comment below or hit me up on Twitter @junkfoodguy or LIKE my Facebook Page and message me there. Also, you can always email me at [email protected]. Let's do this.
Sincerely,
Junk Food Guy