Review: New Brownie Filled Chewy Chips Ahoy! & The Nosh Show, Episode 9
Junk Food Nation, Happy Monday!  Hey, guess what? THE NOSH SHOW EPISODE 9 IS OUT: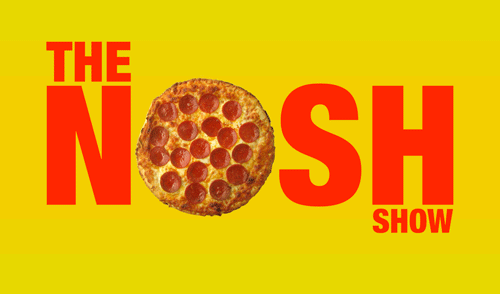 This week, Marvo from The Impulsive Buy, Ryan from Grub Grade, Dubba from On Second Scoop, and me, your friendly neighborhood Junk Food Guy, talk about the Brownie Filled Chewy Chips Ahoy below, the new Taco Bell Smothered Burrito, and discuss my visit to Turkey Hill as well as other experiences visiting food headquarters!
To stay on top of The Nosh Show, you can subscribe to The Nosh Show on iTunes. Or if you don't use iTunes, you can use this link to subscribe using your podcast player of choice. You can also follow The Nosh Show on its own blog, Twitter, and Facebook page.  OR just listen to it, embedded above!
Today's junk food: New Brownie Filled Chewy Chips Ahoy!
Following the podcast, I set out to find these New Brownie Filled Chewy Chips Ahoy!  Only one store, my trusty Target, had stacks and stacks of these.  Into my basket it went.  The cashier asked me, "Are these good?" "We'll see, young Padawan" I whispered, "We'll see…."
New Brownie Filled Chewy Chips Ahoy! are CRAMMED with brownie taste, but are they CRAMMED WITH BROWNIE?  Because that's what we want, isn't it? The front of the package makes it seem like these cookies should be about a 1/2 inch thick each, no?
New Brownie Filled Chewy Chips Ahoy! are filled with lots of long sounding ingredients.  I'm assuming some of them make up brownies.  At least, I hope so.
I joked on The Nosh Show that these New Brownie Filled Chewy Chips Ahoy! ought to be super thick and that when you open the package, you only get like six cookies…but these cookies ARE a lot thicker than your typical Chips Ahoy!
I mean, these other Chips Ahoy! looked a lot more flat and sort of withered as compared to these New Brownie Filled Chewy Chips Ahoy! … and believe it or not, when I opened the package and sniffed…definitely smelled like brownies.  Sort of that darker cocoa smell.  Interesting…
I bit into one of these New Brownie Filled Chewy Chips Ahoy! and holy eff if it didn't taste like a brownie.  Like other Chewy Chips Ahoy!, these cookies were nice and soft, and my teeth sunk right into them.  These not only smelled like brownie, but they definitely tasted like brownies…deep cocoa flavor that morphed into a nice not-too-sweet chocolate taste as I chewed more.  Plus, and this could all be in my head, but I felt like these had that great stick-to-the-root-of-your-mouth sensation that brownies typically give.
The outside still had that nice typical cookie dough flavor with chocolate chips, but when my eyes were closed, the brownie flavor definitely was more prominent.  I personally thought this was a home run for Chewy Chips Ahoy!  Good work.
PURCHASED AT: Target
COST: $2.00
Thoughts? Please comment below or hit me up on Twitter @junkfoodguy or LIKE my Facebook Page and message me there. Also, you can always email me at [email protected]. Let's do this.
Sincerely,
Junk Food Guy