Review: Katy's Kettle Corn Popchips & UM, SINKHOLES? WELL THAT'S TERRIFYING.
Junk Food Nation, over the weekend, I began reading about the horrible sinkhole event that occurred in Florida.  For those unfamiliar, a sinkhole is basically what happens when a weak part of the land suddenly collapses due to huge underground holes beneath the surface.  And one of these sinkholes opened up yesterday, sadly claiming someone's life.  It's really an awful story, and my condolences to the family.
The bigger takeaway for me on this was I DIDN'T KNOW THESE EXISTED.  I mean, I think I'd heard of them before…but my naive self never thought of them as a legit threat.  BUT LOOK AT THIS PICTURE: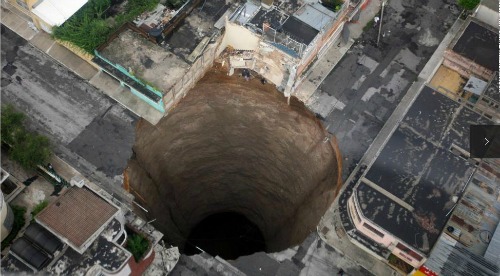 Now this isn't the Florida one, it's a sinkhole in Guatemala.  But that's quite possibly the most terrifying thing I've ever seen.  THAT'S A HOLE STRAIGHT INTO THE CENTER OF THE EARTH, PEOPLE.  WHAT.
Not only do I have to worry about crazy drivers using cell phones, horse meat in my burgers, and who I'm going to draft first in my fantasy baseball league…but now I need to worry about the world OPENING UP AND EATING ME???
Maybe it's an unreasonable fear but since it's new and fresh to me, I'll be carrying this one for a while.  What about you, Nation? What do you think of this sinkhole thing, or what other irrational fears do you have?  Let me know in the comments below.
Today's junk food: Katy's Kettle Corn Popchips!
I've reviewed Popchips on this blog before, and suffice it to say, I LOVE THEM.  They are just loaded with flavor, healthier than regular potato chips, and all around good eatin'.  So when I saw these Katy's Kettle Corn Popchips, I was stoked.  Not only because Katy Perry is friggin' hot, but also because these just looked TASTY.
I have to say, getting Katy Perry to endorse your product is huge. I know that for most product endorsements, you just have to pay the celebrity a boatload of cash, and I'm sure that's partially what happened here – but the celeb also has to want to endorse YOU. You have to convince the celeb that she'd look good holding your product and smiling next to it.  Which K.P. did for these Katy's Kettle Corn Popchips.
Hey, *I* could do that. SOMEONE PAY ME TO ENDORSE CHIPS!  THAT'S THE WHOLE POINT OF THIS BLOG, AIN'T IT?
Oh, Katy's Kettle Corn Popchips.  You and your sultry double entendres.
Katy's Kettle Corn Popchips continue the thing I love about Popchips generally, which is that they are't loaded with BS – just a few simple ingredients.  Nice.
These Katy's Kettle Corn Popchips had a triangular look like the Popchips Tortilla Chips.  They smelled like good ol popcorn, and had a hint of sweetness.  Time to crunch!
Katy's Kettle Corn Popchips were REALLY REALLY good.  Even the Junk Food Gal, who amazingly had never had kettle corn before, thought these were damn tasty.
The chips themselves packed an amazing popcorn taste that reminded me SO MUCH of Popcorn, Indiana's Chip'ins.  Just really nice and crunchy chips that taste like you're eating popcorn even thought it's a chip.  Really nice corn flavor, and a nice coooked-in smokiness to the chip itself.  Very satisfying.
The kettle corn flavor did not disappoint either.  The PERFECT blend of sweet and salty, I didn't feel that there was too much of either taste.  Nice savory sweet flavor, along with a slight oil/buttery taste, made the overall eating experience awesome.  Simply awesome.
If you happen to pick these up, you'll like them – no doubt.
PURCHASED AT: Safeway
COST: $2.00
Thoughts? Please comment below or hit me up on Twitter @junkfoodguy or LIKE my Facebook Page and message me there. Also, you can always email me at [email protected]. Let's hang.
Sincerely,
Junk Food Guy